Know How To Snake for the Sake of Your Home
6/25/2018 (Permalink)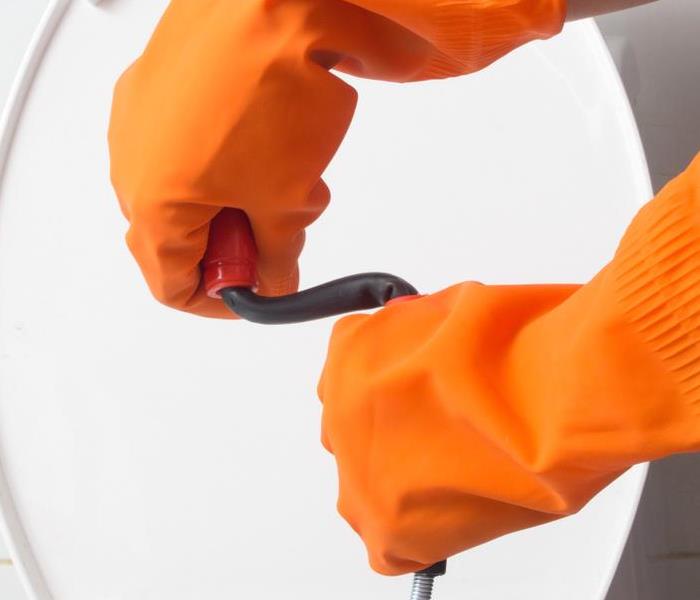 When there's a clogged pipe that won't respond to plunging, you should consider using a snake, a handled metal spiral tool that catches debris and brings it up. While it may seem confusing at first, a snake is fairly simple to use to fix a clog in your home using these five steps.

1. Prepare the Drain

First, you must make sure you have access to the pipe. If the clog is in a bath, you must work on the overflow drain, not the floor drain. Any stopper or drain cover should be unscrewed if necessary and removed. Any removed screws should be stored somewhere secure where they will not fall or roll away.

2. Grab the Handle, Push Down and Twist

Once gloved up, it's time to begin. With the handle in your hands and the metal spiral facing down, feed the snake in the drain a few inches. Once it's securely inside, begin cranking the handle clockwise while pushing to start its journey through the drain.

3. Keep Cranking

As you continue to crank, you may encounter some difficulty turning in the pipe. You may have to shake the wire or crank with a little more force using both hands. Once the snake is stopped, loosen the metal part with a gentle shake using your hand. It is time to remove what is clogged.

4. Pull the Debris Out

Now that the snake has hold of what it is causing problems, slowly pull out the metal part with your hands. Any debris that comes up should be cleaned up and thrown in the garbage to avoid it going down the drain again.

5. Rinse and Repeat Until Water Flows

The drain should be checked to see if water now properly flows. You should use the affected fixture and make sure water flows as normal. If its draining is not adequate, repeat the snaking procedure until it is fixed.

A water restoration company can assist you in restoring any damage to your home in Levittown, PA from a bursting pipe or overflowing water caused by clogged pipes. A snake, however, prevents water backup from ever leading to a pipe break. Visit http://www.SERVPROlevittown.com for more information on water damage.