Delaware River Flood Damage to your Yardley, Washington's Crossing, or New Hope Home
3/28/2017 (Permalink)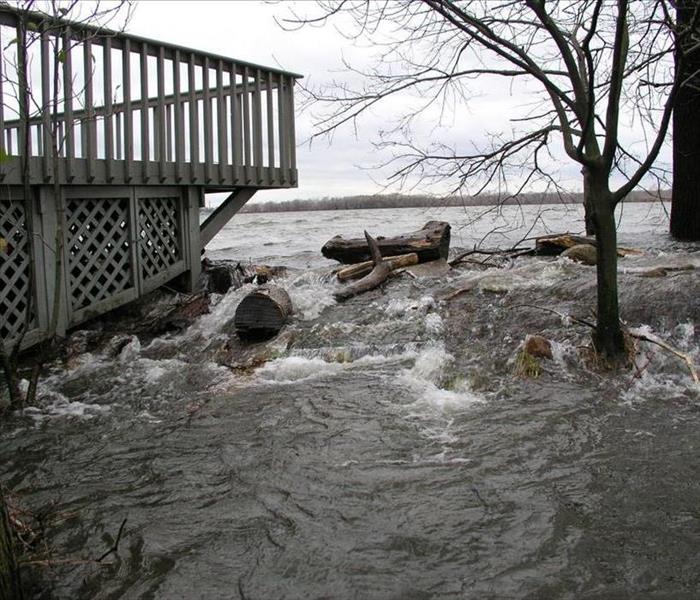 Residents living along the Delaware are at a greater risk for flood damage. SERVPRO of Levittown Newtown Yardley can help you today!
The last thing you want to see as a homeowner is standing water in your home, but some residents, especially those who live along the Delaware River, will unfortunately experience flood damage at some point. You may wonder how you will ever get all of the water out of your home. You may also think about the damage that will be left behind after the water is removed from your home. These are common concerns, and they can be dealt with through professional water remediation services.

The Damage Caused by Water in the Home
Water damage is, unfortunately, common, and it can be caused by a heavy rainstorm with torrential downpours, rising river or creek levels forcing groundwater into your house, a broken pipe or some other events that occur on the property. While there are many causes, the damage is very similar. Croydon flood damage can cause everything from warped drywall, wooden flooring, and wood furnishings to stained floors, foul odors and even mold growth. Dealing effectively with the water damage is important if you want your home restored to its former condition.

The Potential for Mold Growth
Any time water or even moist air remains in the home for more than a few days, the risk for mold growth skyrockets. Mold thrives in darker, wet areas. After a flood, your home may have many surfaces that are moist and conducive to mold growth. Mold, as a form of secondary water damage, can cause an unfortunate situation to turn into a much costlier event to correct. Rapid water extraction is the key to mitigating losses to your home's contents and structure.

How to Deal With Water Damage
A flood can cause serious damage to your Yardley, Newtown, or New Hope home and damage can be disastrous for you to deal with, especially if it causes you to evacuate your home or close your business. The good news is that you do not need to deal with flood damage on your own. Professional remediation services are available to extract standing water from your home and dry out the air so that the humidity level returns to normal. Rehabilitation services may also include stain and odor removal, professional carpet cleaning and more. Your primary goal is to improve the property so that it looks and smells like it did before the flood occurred. The clean up and sanitizing, especially after groundwater intrusion, is crucial to the restoration of a healthy and safe preloss environment. SERVPRO has the expertise and physical resources to accomplish these needed services. This can be difficult to do on your own especially when time is of the essence, so professional services are in your best interest.

At SERVPRO of Levittown Newtown Yardley, we are a locally owned company that is committed to your satisfaction with all aspects of our water restoration services. We know what it takes to improve your property after a flood event. The aftermath of a flood can be daunting, contact our office today at (215) 785-1777 for more information or 24/7 emergency service.